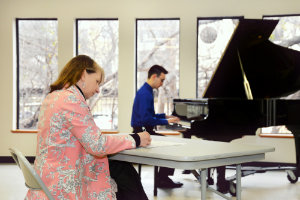 CMTA sponsors numerous events throughout the year for students of all instruments including adjudicated festivals, master classes, contests, and exams.
Adjudicated Festivals
Festivals are non-competitive events in which students perform privately in front of a judge and receive a rating and a written critique of their performance. CMTA hosts several themed festivals each year for pianists (Jazz & Blues, Sonatina, etc.) and one festival each year for instrumental and voice students. All festivals are judged by professional musicians outside the organization, and students who receive a "Superior" rating at any festival earn a ribbon in addition to feedback from the judge.
Master Classes
During a master class, a few pre-selected students receive one-on-one instruction from a master teacher -- someone with an advanced degree in music and/or a successful performing career. Audience members are welcome to attend the event. CMTA invites a different clinician to teach the master classes each year, and students are required to submit an audition recording and be selected by the committee in order to participate in a master class.
Contests
CMTA sponsors local rounds for several TMTA Student Affiliate competitions: the Original Composition Contest, Publication Contest, and Student Affiliate Piano Performance Contest. Students who win at the local level may advance to regional, state, and national rounds. Participants must be Student Affiliate members of TMTA.
The CMTA Piano Solo Contest exposes students to a wide variety of repertoire by different composers, and teachers select the student's contest division based on ability rather than age or grade. Winners are selected in each division as determined by judging panel. CMTA also hosts the William Gillock Contest for pianists. Students participate in various divisions according to school grade and perform repertoire by composer William Gillock. Winners are awarded in each division as selected by a judge.
Exams
The TMTA Theory Test and World of Music Test allow students to demonstrate their knowledge of music theory and music history, respectively. Participants must be TMTA Student Affiliate members prior to registering for the exams. Exams are given according to school grade, but students may elect to test below their grade level. A passing grade on the Theory Test is a prerequisite for participation in certain TMTA competitions.
Adult Student Events
Offered periodically throughout the year, CMTA's adult student events are designed for adult pianists of any skill level who are currently taking music lessons with a CMTA teacher. The events provide adult students with the opportunity to meet and socialize with each other and to perform in a relaxed and supportive environment.