Choosing the Right Teacher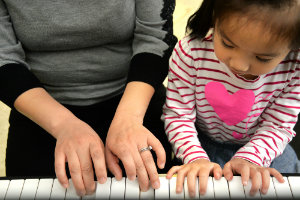 Selecting a teacher who is the best fit for your child is so important! Before meeting with a potential teacher, consider what you and your child expect from lessons and what kind of goals you have. Ask the teacher about their educational background and teaching experience, and whether he or she specializes in a particular area or type of student. Consider the availability and policies of the potential teacher: are you a good fit with their studio and set of policies?
Take your time making a decision; there are many factors to consider when you choose to invite someone new into your child's life. A music teacher becomes a confidante and trusted advisor who will be in your child's life for many years. Additional help for parents can be found in piano teacher Diane Hidy's blog post: "How to Choose the Best Piano Teacher for Your Child".
For further suggestions regarding things to consider in choosing a teacher, see Diane Hidy's blog post: " How To Choose The Best Piano Teacher For Your Child".
a CMTA teacher near you!
How To Know If Your Child Is Ready For Music Lessons
Starting private music lessons is an exciting event for a child, but how do you know when your child is ready? Every child learns and matures at his or her own pace, but there are several important milestones that a child should reach before most teachers would recommend private lessons.
Is your child able to sit still and pay attention for at least 10-15 minute intervals?
Most young beginning students start with 30 minute lessons that can be broken up into different activities to maintain interest and keep the child actively engaged.
Can your child hold a pencil well enough to draw or write?
Holding and using a pencil requires the same fine motor skills and dexterity that are required at the piano or other instruments.
Does your child know the alphabet?
The musical alphabet uses the letters ABCDEFG and students who are already familiar with the sequence of letters have an easier time applying that knowledge to an instrument. It is even more helpful when the child can recite those letters backwards (GFEDCBA)!
Is your child able to count from at least 1-10?
Music is organized into sets of beats (usually only 3 or 4 beats at the early learning stages), and students will often be asked to count along as they play. It is a further benefit if your child begins lessons with a basic knowledge of addition.
Each music teacher has his or her own set of skills and markers that they look for in a potential student. When you contact a potential teacher, ask about what ages the teacher instructs and how they decide whether or not a student is ready for lessons. Some teachers will offer a single lesson as a trial class to determine a student's readiness for lessons.
If your child does not seem quite ready for private instruction, consider finding a music studio or school that offers early childhood music classes (usually ages 2-4), which will focus on general music making and discovery in a class setting. Another great way to introduce your child to music is to find a teacher or school who offers group lessons that progress at a slower pace and incorporate learning experiences away from the instrument that cultivate stronger motor skills, rhythm exercises, and introduce basic musical concepts. Students who excel in the group environment frequently transfer later to private instruction to continue their musical education.
For further suggestions regarding things to consider before your child starts music lessons, see piano teacher Elissa Milne's blog post: " 10 Things You Should do Before Your Child Begins Piano Lessons".