Benefits of Membership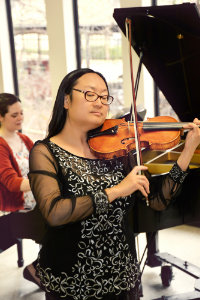 Carrollton Music Teachers Association meets on a monthly basis during the school year, offering its members opportunities to network with each other and further their professional education through presentations from a variety of guest speakers. Members also have access to a full calendar of student events including music theory exams, competitive performance opportunities, and non-competitive events such as festivals and masterclasses.
Membership Requirements
Active membership is open to any music teacher who has: (a) Earned a degree with a major in music OR (b) Earned current Music Teachers National Association Certification OR (c) Studied for at least five years with a master teacher and can present documented evidence.
Teachers who do not meet one of the above criteria may be eligible for Provisional Membership, which can be upgraded to Active Membership upon satisfactory completion of certain requirements outlined in our yearbook.
Contact Us
Lauren Reber is our Membership Chair. If you have any questions about joining CMTA, please contact Lauren directly at reberfamily@gmail.com.